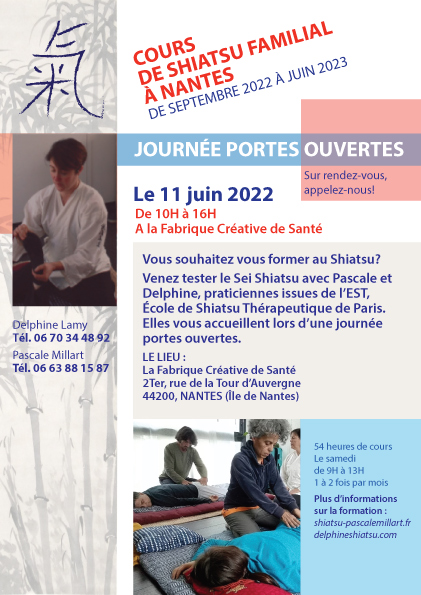 Training in the practice of Family Shiatsu
In collaboration with Delphine Lamy, a Shiatsu practitioner, and in partnership with the Therapeutic Shiatsu School of Paris, we propose introducing you to the Family Shiatsu over a period of 54 hours.
The objective is the acquisition of a complete protocol in order to be able to give your family a complete session.
The courses include the practice of Qi Gong (Work on energy) and Do in (Automassages) which are a preparation to the practice of Shiatsu. Qi Gong and Do In are also preventive activities for the maintaining health, these practices will bring you their benefits for a better daily well-being.
The training is also an opportunity to receive notions of Traditional Chinese Medicine, the ancient oriental medicine on which the practice of Shiatsu is based.
Schedule for 2020-2021 :
Classes take place in small groups on Saturdays from 9am to 1.30pm :
31st October 2020
7 and 21 November 2020
12 December 2020
16 et 23 January 2021
6 February 2021
20 March 2021
17 April 2021
15 and 29 May 2021
12 June 2021
The Trainers :
Delphine Lamy, certified traditional Shiatsu practitioner - EST of Paris SIRET 83539204400011
Pascale Millart, certified traditional Shiatsu practitioner - EST of Paris SIRET 75006399200028
Training address :
16, rue des Primevères - 44100, Nantes
Cost of training :
1050 €, VAT not applicable, art. 293 B of the CGI (General Tax Code)
Taking a course with us means :
-
Taking part in a training course with a small number of students
and benefiting from the presence of two practitioners taught by Bernard Bouheret, founder and director of the EST de Paris.
-
Access to the "Espace Élèves"
on the website of the Paris School of Therapeutic Shiatsu, a source of information to improve your practice (access to documents and videos of the courses).
-
At the end of the course, having the opportunity to participate
in a 3-day training course in the forest of Fontainebleau with Bernard Bouheret and the students of the Paris School of Therapeutic Shiatsu. (Cost in addition, 310€ for AIST members and 350€ for non-members. Course, accommodation and meals included)
-
Validate the training
you have received and thus access the 2nd year of the EST course in Paris, if you wish to deepen your knowledge of the discipline and validate a complete cycle of training (duration 4 years).
More information via the link :
https://www.shiatsu-est.org/shiatsu-nantes
Registrations are open for the 2020-2021 season which will start in October, please contact us for further information. Delphine and I would be happy to welcome you in order to introduce you to Sei Shiatsu and enlighten you on the training.